"As a child I received instruction both in the Bible and in the Talmud. I am a Jew, but I am enthralled by the luminous figure of the Nazarene . . . No one can read the Gospels without feeling the actual presence of Jesus. His personality pulsates in every word. No myth is filled with such life. Jesus is too colossal for the pen of phrase-mongers, however artful. No man can dispose of Christianity with a bon-mot."
Quote taken from "What Life Means to Einstein," The Saturday Evening Post, October 26, 1929.
THERE IS NO QUESTION ABOUT IT,
ALBERT EINSTEIN WAS A SMART JEW.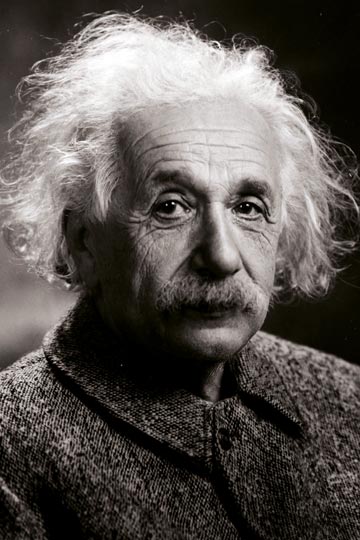 "BUT HE WAS PIERCED FOR OUR TRANSGRESSIONS AND CRUSHED FOR OUR INIQUITIES; THE CHASTENING FOR WELL-BEING FELL UPON HIM AND BY HIS SCOURGING WE ARE HEALED. ALL WE LIKE SHEEP HAVE GONE ASTRAY AND EACH HAVE TURNED TO HIS OWN WAY; BUT HA SHEM HAS CAUSED THE INIQUITY OF US ALL TO FALL HIM." 
ISAIAH 53:5-6
וְהוּא֙ מְחֹלָ֣ל מִפְּשָׁעֵ֔נוּ מְדֻכָּ֖א מֵעֲוֺנֹתֵ֑ינוּ מוּסַ֤ר שְׁלוֹמֵ֙נוּ֙ עָלָ֔יו וּבַחֲבֻרָת֖וֹ נִרְפָּא־לָֽנוּ׃
כֻּלָּ֙נוּ֙ כַּצֹּ֣אן תָּעִ֔ינוּ אִ֥ישׁ לְדַרְכּ֖וֹ פָּנִ֑ינוּ וַֽיהוָה֙ הִפְגִּ֣יעַ בּ֔וֹ אֵ֖ת עֲוֺ֥ן כֻּלָּֽנוּ׃
ישעיהו נג:ה-ו
The Talmud repeatedly states Isaiah 53 is about the Messiah Sanhedrin 98B, Midrash on Samuel, Targum on 'Kingdom of Messiah'. Only many centuries later did some rabbis suggest otherwise. 
Sanhedrin 98b, Ruth Rabbah 5:6, Eliezer Ha Kalir's Yom Kippur liturgy, Zohar II, 212a, Rambam's letter to Yemen, Yalkut II:571 and Nahmanides citing Midrashim all state this is about Messiah, not Israel.